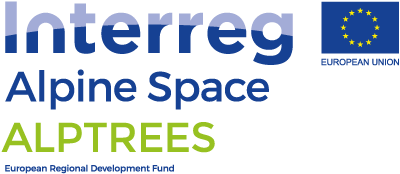 ALPTREES
A Transnational Cooperation for Sustainable Use and Management of Non-Native Trees in Urban, Peri-Urban and Forest Ecosystems in the Alpine Region
Overview
Originating in environments with warmer and drier conditions, non-native tree species can support the adaptation of European forests and urban areas to climate change and therefore, they have the potential to respond positively to the effects of climate change on the Alpine environment. On the other hand, non-native trees involve risks for biodiversity and ecosystem functions, as some are considered invasive and can alter the ecosystem of the area they grow in. The ALPTREES project investigated the opportunities and risks that non-native tree species provide for the future of our urban and forest areas. Furthermore, it developed guidelines for their use and management within the Alpine Space.
Factsheet
2014 – 2020
Liveable
Enhance the protection, the conservation and the ecological connectivity of Alpine Space ecosystems

Group 7: To develop ecological connectivity in the whole EUSALP territory
10/2019
06/2022
2.348.665 EUR
1.996.364 EUR
Partners
Federal Research and Training Centre for Forests, Natural Hazards and Landscape, Austria (Lead partner)
Lead partner
Austria
Wien
Wien
Municipial authorities of the provincial capital Klagenfurt on Lake Wörth
Austria
Kärnten
Klagenfurt am Wörthersee
International Institute for Applied Systems Analysis
Austria
NiederAustria
Laxenburg
Forest Research Institute Baden-Wuerttemberg (FVA)
Germany
Freiburg
Freiburg im Breisgau
National Research Institute for Agriculture, Food and the Environment
France
Rhône-Alpes
Saint-Martin-d'Hères
Centre For Studies and Expertise on Risks, Environment, Mobility, Urban and Country Planning
France
Provence-Alpes-Côte d'Azur
BRON Cedex
Slovenian Forestry institute
Slovenia
Zahodna Slovenia
Ljubljana
Municipality of Maribor
Slovenia
Vzhodna Slovenia
Maribor
Development Agency Sora
Slovenia
Zahodna Slovenia
Škofja Loka
LAMORO Development Agency
Edmund Mach Foundation
Italy
Provincia Autonoma di Trento
San Michele all'Adige
Municipality of Trento
Italy
Provincia Autonoma di Trento
Trento
48.1782684

16.302980305239764

48.0677911

16.3576159221198

47.974489750000004

7.842815027285954

46.0526662

14.480088002780466

46.56253685

15.649759886404695

46.16390705

14.306674164430577
Outcomes
---

Online Training Course

Tool

In this online course, dedicated experts from the ALPTREES project take you on an exciting journey of discovery into the world of trees in urban, peri-urban, and forest ecosystems.

Our motivation is to discuss the controversial effects of negative and positive impacts of non-native trees and to provide science-based technical guidance for the management and responsible use of non-native trees in the Alpine Space. Each citizen of the Alpine Space has a chance to learn more about the diversity of native and non-native trees species!

---

Handbooks for the Use and Management of non native trees species in the Alpine Space

Strategy

In the pocket guide "Identification Handbooks for non native trees in the Alpine Space" we describe 49 non-native tree species, that occur in forests, peri-urban and urban areas in the Alpine Space.

In ten chapters the "Handbook for Management of non-native tree species IN FORESTS of the Alpine space" provides results and scientific approaches of our partners about the situation of non native tree species in Alpine Forest areas. Urbanized areas act as heat islands that experience higher temperatures than their surroundings. Man-made structures, including buildings and roads absorb and re-emit the sun's heat more than natural landscapes such as forests and bodies of water. "The Handbook for Management of non-native tree species IN URBAN AREA of the Alpine space" provides knowledge about the use and management of tree species in the urban space.

---

Manual for risk assessment

Tool

Non-native tree species (NNT) are used in forestry across the Alpine Space for their growth performance, valuable timber, and resistance to drought and pest or pathogen damage.

Yet, cultivating NNT may pose risks to biodiversity and associated ecosystem services, and several NNT are evaluated as invasive in some regions in the Alpine Space. Such conclusions typically follow the results of a risk assessment, which do not adequately consider site-specific variations in impacts and the extent of the affected area. Here, we present a new methodological framework to mitigate risks associated with NNT while taking advantage of the ecosystem services that certain tree species can provide. The framework is based on a stratified assessment of risks posed by NNT that distinguishes between different ecosystem types or sites and considers the effectiveness of available management strategies to mitigate negative effects.

---

Open knowlewdge HUB for non native trees in species in the Alpine Space

Tool

The Database on Non-Native Tree Species was developed as a concept and prototype by the ALPTREES project in 2022 as part of a project undertaken for the Sustainable use and management of non-native trees in the alpine region.

The concept is constantly revisited and expanded by the editorial team of the NNT HUB.

---

Interactive Web GIS application

Tool

The Web GIS tool has been implemented as a Google Earth Engine App (see: https://earthengine.google.com) to share policies, tools, and technical guidance for the management and responsible use of NNT.

This inter-active tool will allow stakeholders from different sectors to distinguish between positive and negative impacts of NNT and to see the predicted impact of Climate Change in any location of the Alpine Space. The Web GIS tool will be open to and used by citizens, NGOs, public authorities, education bodies, and businesses or even investors. For this Web GIS tool on Google Earth Engine, all 168 tree species suitability maps/risk maps have been incorporated. Four additional information layers/set of maps have been added in order to improve the information provided to the App user and to support respective decision making.

---

Transnational strategy

Strategy

The overall objective of the transnational strategy is to improve knowledge-based decision-making and communication on the responsible use and management of non-native trees in the Alpine Space.