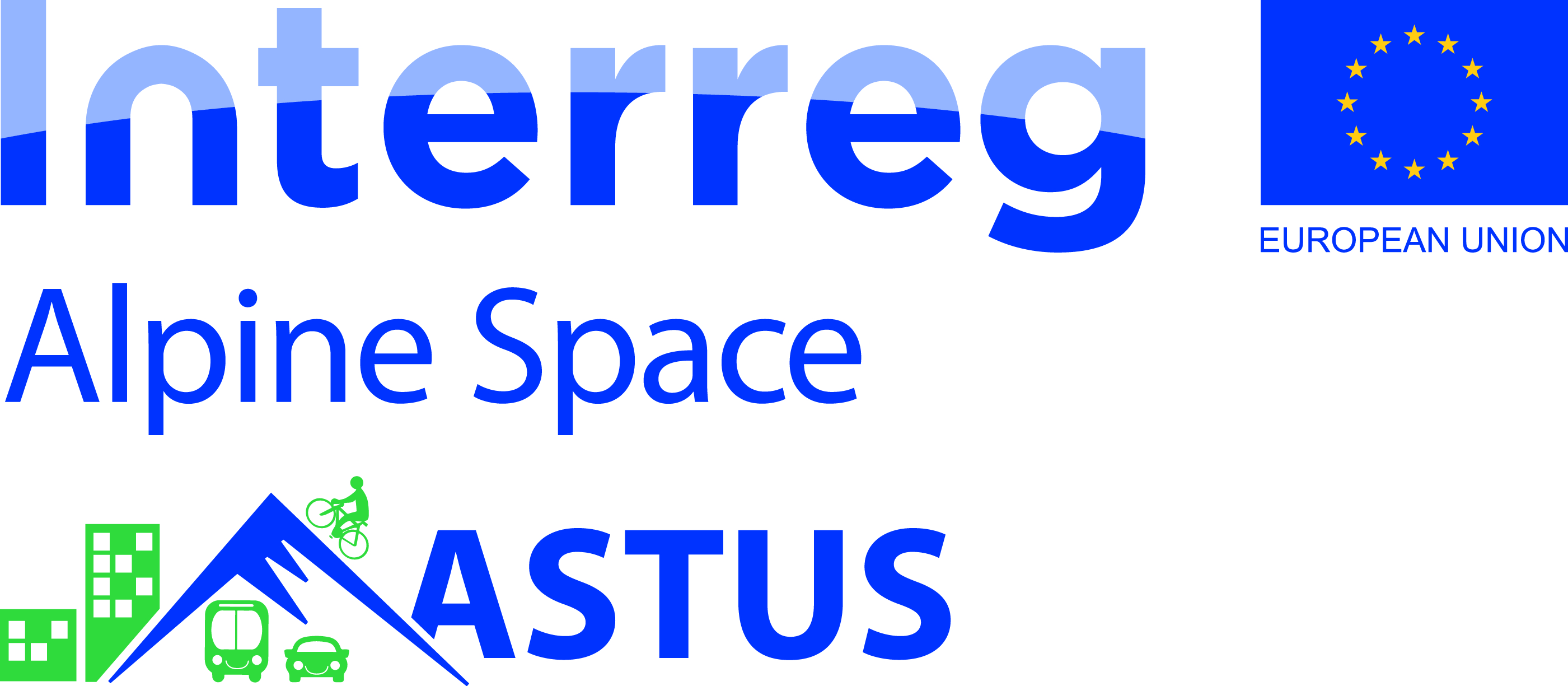 ASTUS
Alpine Smart Transport and Urbanism Strategies
Overview
Households living in the Alpine Space outside urban cores often have a high car use, as few other mobility alternatives are available. This, however, also entails pollution peaks, traffic jams and thus a higher share of CO2 in the atmosphere. ASTUS targeted local authorities and supported them in identifying and implementing long-term alternative mobility solutions for inhabitants, using both transports and spatial planning levers. The project partners developed low carbon strategies and action plans, and tested them in five pilot regions to customise them for different Alpine territorial needs. By doing so, the project achieved its main objective: to reduce in a long-term perspective the carbon impacts and atmospheric pollution linked to daily mobility needs in the Alps.
Factsheet
2014 – 2020
Low carbon
Increase capacities for the delivery of services of general interest in a changing society

Group 4: To promote intermodality and interoperability in passenger and freight transport
11/2016
12/2019
2.395.951 EUR
2.036.558 EUR
Partners
Auvergne-Rhone-Alps Region (Lead partner)
Lead partner
France
Rhône-Alpes
Lyon
Salzburg Institute for Regional Planning and Housing
Centre for Studies and Expertise on Risks, Environment, Mobility, and Town and Country Planning
France
Rhône-Alpes
Bron Cedex
Grenoble Alps university
France
Rhône-Alpes
Saint-Martin-d'Hères
Bourgogne-Franche-Comté Region
France
Franche-Comté
Besançon
Technical University of Munich
Urban Planning Institute of the Republic of Slovenia
Slovenia
Zahodna Slovenia
Ljubljana
UNCEM National Association of Mountain Municipalities Piemont Delegation
Munich Transport and Tariff Association (MVV)
City of Munich, Department of Urban Planning
Consortium of Municipalities of Belluno
45.19156085

5.76726385662386

47.234508700000006

6.030445007540703

48.1322398

11.570833747089948
Outcomes
---

ASTUS territorial alpine typology

Tool

Comparative analysis of alpine territories based on a territorial sample (ASTUS pilot sites)

The transnational typology of alpine territories is defined as "Comparative analysis of alpine territories based on a territorial sample (PS) representing existing different alpine contexts regarding transport and settlements, spatial planning, mobility practices and experiences". Therefore, the typology is carried out in order to investigate alpine territorial dynamics and legal backgrounds upon which ones ASTUS is built.

---

ASTUS typology guideline

Tool

Guideline for the ASTUS alpine space typology

This document presents the methodology and structure of the alpine space typology and describes ASTUS territorial types.

---

CO2 minimizer toolbox

Tool

A collection of decision-making tools assessing the impacts of potential low CO2 solutions

ASTUS CO2 minimizer toolbox is a collection of prospective and future-oriented decision making tools assessing the social, environmental and financial impacts of potential innovative low CO2 solutions, linking spatial planning and transport measures. The CO2 minimizer toolbox aims to support the identification, but also implementation of low carbon solutions in transport and land use planning.

---

ASTUS tools - fact sheets

Tool

Short description of the 10 tools developped ASTUS

Within ASTUS, project partners CEREMA, RSA FG iSPACE, TUM, UGA, and UIRS developed a total of ten tools. The delivered tools are beneficial for public authorities on all levels, infrastructure and service providers, interest groups, educational institutions, enterprises, and also citizens. In order to enable external parties to get a quick overview of all ASTUS tools, fact sheets were produced, providing the most relevant information about each tool at a glance.

---

ASTUS transnational methodology for low CO2 scenarios

Strategy

ASTUS methodology aims to support territories in finding their own specific pathway towards a low ca

The methodology identifies the key influencing factors on transport-related emissions, outlines the basic steps toward developing low CO2 scenarios and highlights the main requirements for successfully implementing ASTUS approach. The methodology also presents a calcultation tool developped within ASTUS (Co2l) and describes application examples that serve as orientation for territories eager to develop scenario-based action plans for low-carbon transport.

---

Transnational conclusion report and recommendations

Strategy

This document shares conclusions and recommendations drawn from the experiences of the pilot sites who applied ASTUS methodology.

The transnational report is intented for any individual or entity acting on an Alpine space territory wanting to develop low-carbon mobility solutions. It is set to guide and help decision-makers in the application of ASTUS methodology and the production of solutions. It presents recommendations based on the pilot sites multiple experiences.