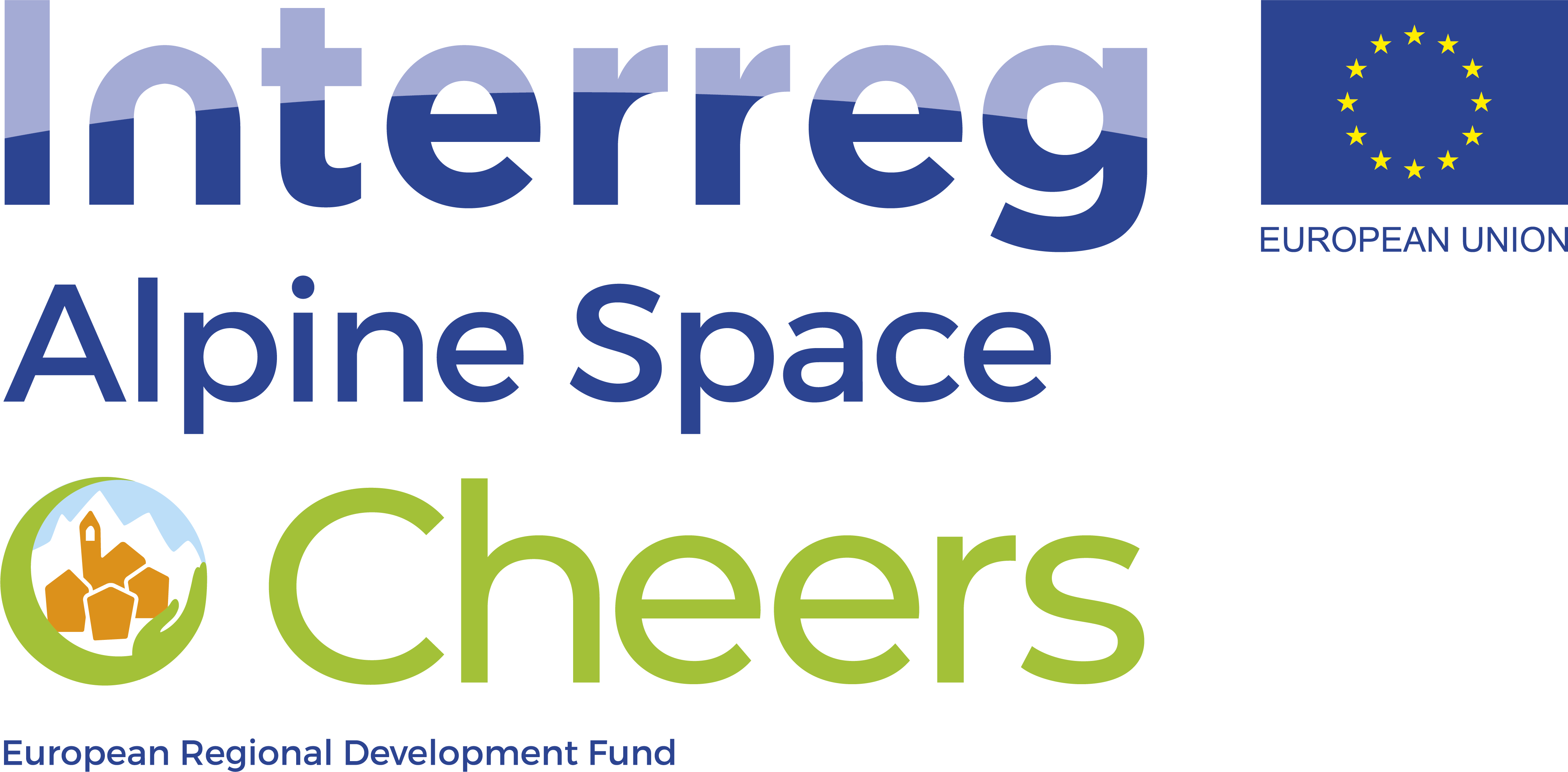 CHEERS
Cultural HEritagE. Risks and Securing activities
Overview
Floods, forest fires and other natural disasters are becoming more frequent and devastating because of climate change. Apart from human lives and economic infrastructures, they also pose a threat to the cultural heritage that shapes people's identity and contributes to the Alpine economy. CHEERS created national and transnational tools, governance schemes and intervention guidelines to safeguard cultural heritage from natural hazards. It has provided local Alpine communities with a legal framework, knowledge and skills to organise the securing of their cultural resources.
Factsheet
2014 – 2020
Liveable
Sustainably valorise Alpine Space cultural and natural heritage

Group 1: To develop an effective research and innovation ecosystem
04/2018
08/2021
2.092.316 EUR
1.693.466 EUR
Partners
Lombardy Foundation for the Environment (Lead partner)
Lead partner
Italy
Lombardia
Milano
Catholic University of the Sacred Heart
National Research Institute for Agriculture, Food and the Environment
France
Rhône-Alpes
Saint Martin d'Heres
BRGM - French Geological Survey
France
Provence-Alpes-Côte d'Azur
Marseille
Slovenian Forestry Institute
Slovenia
Zahodna Slovenia
Ljubljana
Idrija Mercury Heritage Management Centre
Slovenia
Zahodna Slovenia
Idrija
Austrian Research Center for Forests
Austrian Institute of Technology
VALABRE Consortium
France
Provence-Alpes-Côte d'Azur
Gardanne
University of Applied Sciences and Arts of Southern Switzerland
Switzerland
Ticino
Canobbio
Rachel Carson Center for Environment and Society
45.4618543

9.177056282599018

43.23019571266879

5.4241505042428715

46.0526662

14.480088002780466

46.00249195

14.024783559204987

48.1782684

16.302980305239764
Outcomes
---

CULTURAL HERITAGE. RISKS AND SECURING ACTIVITIES.

Tool

Approaches, tools and techniques of emergency planning for protecting cultural heritage

All over Europe, emergency plans are the instrument commonly used to manage preparedness and response to natural hazards and risks in the territory. When a disaster hits, as a consequence of a natural hazard (a flood, an earthquake, a landslide, a forest fire etc…), the community is prepared and ready to tackle the emergency thanks to plans that have been designed in "peacetime". The true focus of emergency planning is, firstly and rightly so, people's safety and it will be accepted as a premise. In most parts of Europe, disaster management plans at the local level seldom include cultural heritage as an objective for safeguarding and response measures. This is particularly true when it comes to non-managed assets, minor and local cultural assets widespread on the territory – for instance, old chapels that can be found in Alpine valleys – whereas more frequently major museums or cultural sites may already have their own Emergency Plans in place. Therefore, the main goal of this Sourcebook is to provide clear guidelines on how to operate according to the current Civil Protection and Disaster Management response systems in place, in order to integrate the specific needs of cultural heritage and ensure its protection on the territory.

---

A new concept of Civil Protection Plan

Tool

Generalize the experiences on pilot areas

The aim of this document is to generalize the experiences on pilot areas acquired by the Cheers consortium in order to provide, in the form of an easy-to-read guideline, a synthesis of the main steps that local communities are invited to take when dealing with emergency planning for the safeguard of cultural heritage against natural hazards.

---

Local strategies. The six pillars for salvaging cultural heritage against natural hazards.

Strategy

Policy recommendations

---

What is Cheers?

Strategy

Short animated sequence about motivation and importance of the project.

In a short animated sequence, the video offers a summary of the motivations and importance of the project for the protection of the cultural heritage of the Alps in the face of emergencies caused by natural disasters. The Alpine cultural heritage is very rich and of great importance both for local communities and internationally, as evidenced by the numerous world heritage sites registered on the UNESCO lists. However, this heritage is exposed to a variety of natural hazards, which can lead to real natural disasters, such as floods, landslides, earthquakes and extreme weather events. Such disasters can damage the cultural heritage in a very important way, to the point of causing their loss. The CHEERS project proposes a series of useful activities to prepare for emergencies involving cultural heritage, thus reducing the damage caused by disasters. The activities and expected results are linked to 4 main objectives: 1. Disseminate a concept of "know-how for the rescue of Alpine cultural heritage" by collecting and enhancing knowledge of operational rescue practices, past experiences and lessons learnt and decision-making processes developed around cultural heritage at risk both in peacetime and during field activities; 2. To strengthen the knowledge of the cultural heritage exposed to risks in the Alpine territory; 3. Increase the awareness and participation of stakeholders and communities through training activities, strengthening of knowledge and information and direct involvement in the planning of rescue operations of cultural heritage; 4. Integrate civil protection plans with indications relating to the protection and rescue of cultural heritage in order to make intervention in emergencies more effective and efficient. By developing these activities, it may not be possible to save everything and ensure that nothing is damaged or lost, but certainly the impact of natural events on the Alpine cultural heritage could be reduced.