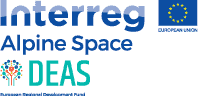 DEAS
Data Economy Alps Strategy to stimulate participation competitiveness and new business in Alpine Space
Overview
Data has become one of the most valuable resources in the world. Access to digital technologies and open data are crucial for good living and entrepreneurial conditions in the Alpine region. 80 million people living in the Alpine Space have specific needs for valuable and on-time quality services. To provide for these services, open data is a valuable source of information that can serve as basis for useful services provided by the public sector and businesses. Even though there are several local initiatives using open data in different sectors in the Alpine region, an integrated and efficient strategy was missing. DEAS worked to improve the value of using open data for public service and business and focused on strategic sectors of the Alpine Space, which benefit from their use such as environment, tourism and mobility. DEAS supported the public and private sectors in order to boost the creation of new disruptive and customer-oriented services or products for citizens, tourists and entrepreneurs.
Factsheet
2014 – 2020
Innovative
Improve the framework conditions for innovation in the Alpine space

Group 1: To develop an effective research and innovation ecosystem
10/2019
06/2022
2.253.540 EUR
1.915.509 EUR
Partners
Veneto Region (Lead partner)
Lead partner
Italy
Veneto
Venice
Treviso and Belluno Chamber of Commerce
Bwcon GmbH
Germany
Freiburg
Freiburg im Breisgau
City of Constance
Germany
Freiburg
Constance
Consortium for the Information System
Styrian Business Promotion Agency
Business Upper Austria – OÖ Wirtschaftsagentur Ldt.
Technology park Ljubljana Ltd
Slovenia
Zahodna Slovenija
Ljubljana
City of Ljubljana
Slovenia
Zahodna Slovenija
Ljubljana
46.04980905

14.50707959564592
Outcomes
---

DEAS toolkit to support OD/LOD exploitation

Tool

---

D.T2.3.3 Report on study visit on environment

Strategy

---

D.T2.3.3 Report on study visit on mobility

Strategy