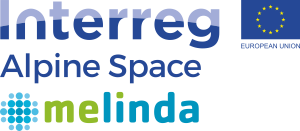 MELINDA
Mobility Ecosystem for Low-carbon and INnovative moDal shift in the Alps
Overview
Have you ever thought about using more sustainable means of transport for your daily journeys? There is a good chance that a various range of reasons prevented you from changing your mobility habits, from the availability of sustainable transport options to the costs or the travel time. The project MELINDA fostered multimodality and modal shift in mobility behaviour for a more sustainable mobility in the Alps. By providing an integrated set of mobility and behavioural data, it supports policy-making and service planning. Thanks to the engagement of citizens in six pilot areas, tailored mobility options were tested and improved, such as city bikes, inter-municipal cycle paths or carpooling and ridesharing options.
Factsheet
2014 – 2020
Low carbon
Increase capacities for the delivery of services of general interest in a changing society

Group 4: To promote intermodality and interoperability in passenger and freight transport
Group 5: To connect people electronically and promote accessibility to public services
04/2018
08/2021
2.003.305 EUR
1.558.522 EUR
Partners
Insiel S.p.A. (Lead partner)
Lead partner
Italy
Friuli-Venezia Giulia
Trieste
e-Institute
Slovenia
Vzhodna Slovenia
Ptuj
Municipality of Maribor
Slovenia
Vzhodna Slovenia
Maribor
University of Maribor
Slovenia
Vzhodna Slovenia
Maribor
B.A.U.M. Consult GmbH München
Auvergne Rhône-Alpes Energy Environment Agency
France
Rhône-Alpes
Villeurbanne
Lucerne University of Applied Sciences and Arts
Switzerland
ZentralSwitzerland
Luzern
Vorarlberg University of Applied Sciences
Austria
Vorarlberg
Dornbirn
University of Milano-Bicocca
AustriaTech Ltd. – Federal Agency for Technological Measures
Inter-municipalitiesTerritorial Union
Italy
Friuli-Venezia Giulia
Porcia
City of Leutkirch
Germany
Tübingen
Leutkirch im Allgäu
Energy Agency Ebersberg-München gGmbH
Germany
Oberbayern
Ebersberg
Municipality of Pordenone
Italy
Friuli-Venezia Giulia
Pordenone
46.417793849999995

15.874832466351261

46.56253685

15.649759886404695

46.5592325

15.643293707372823

45.5181372

9.214323007012478
Outcomes
---

MELINDA Output O.T2.1 Transnational framework on low carbon mobility

Tool

O.T2.1: Report presenting the structure that is used for built DataLab.

---

MELINDA OUTPUT O.T3.1 Methodology of participative processes

Tool

O.T3.1. Report presenting the participative processes used to implement bidirectional communication with citizens, in order to understand better mobility patterns and their impact on environment, economics and lifestyles.

---

MELINDA OUTPUT 4.1 Pilot based and guidelines on mobility patterns

Tool

O.T4.1 Pilot-based evidences, guidelines on mobility patterns, citizens' engagement and behaviour-change strategies, that highlight business opportunities for transport providers, support the Policymakers in implementing innovative VAS for multimodality.