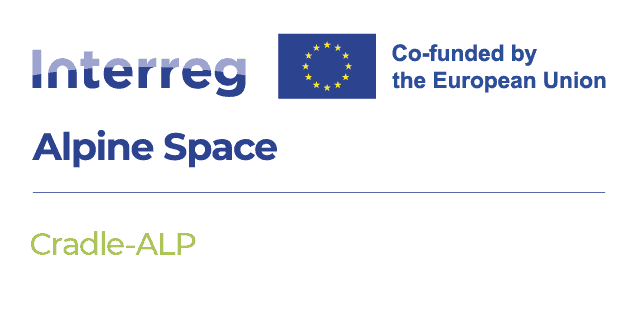 Cradle-ALP
Cradle to cradle, circular design and circular substitutions for linear products in industrial manufacturing processes in the Alpine Space
Overview
Fossil raw materials and toxic substances are widely used in production processes in the chemical, plastics, and forestry sectors. The Cradle-Alp project will focus on replacing chemical, fossil or unsustainable materials with more circular, sustainable and biodegradable ones. The project will raise awareness and capacity of the public, relevant industries as well as policy stakeholders and business support organisations on cradle to cradle (C2C) approaches, circular design, and circular substitutions from the Alpine region. Transnational stakeholder groups will be formed, with the aim of transferring C2C roadmaps into industrial practice along exemplary value chains. Thus, Cradle-Alp will contribute to the industrial transformation and mainstreaming C2C approaches in the Alps.
Factsheet
2021 – 2027
Carbon neutral and resource sensitive Alpine region
SO 2.2 - Promoting the transition to a circular and resource efficient economy

AG1 Research & innovation
1.953.970 EUR
1.405.478 EUR
Partners
46.0716302

14.514948852730125

46.2476745

5.673366294950046
Outcomes
---

Tools and methodologies supporting the uptake of digital and engineering technologies as well as the adoption of business models fostering C2C transformation in SMEs from the Alpine Space

The Cradle-to-Cradle toolbox will encompass a series of tools enabling business support organisations and businesses to better implement a circular transformation along the entire value chain, from product design until end of life valorisation. Examples of tools are: Value proposition canvas, business model development, capacity and technology maturity assessment, roadmap development and business model canvas, value chain generator.

---

Transnational multiple stakeholders, sector-based pilots aiming at implementing Cradle2Cradle transformative activities into industrial practice.

The partners will bring together transnational groupings of stakeholders from research, higher education and business along jointly selected value chains within each of the priority sectors of the project. Each grouping will pilot the transfer of the Cradle2Cradle sectoral roadmaps into industrial business cases. At least 5 exemplarily value chains shall be selected for the piloting process. Each pilot shall involve at least partners from 3 regions.

---

Cradle to cradle transformation roadmaps in selected value chains covering technologies and business models.

Cradle to Cradle transformation roadmaps shall provide policy makers, business support providers and businesses with guidelines for the implementation of circular business models and supportive material, digital and hybrid technologies for each of the selected value chains for the piloting process. The roadmaps will also include examples from industrial practice.