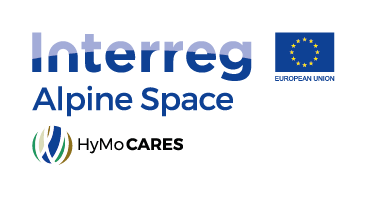 HyMoCARES
HydroMorphological assessment and management at basin scale for the Conservation of Alpine Rivers and related Ecosystem Services
Overview
River corridors in the Alpine Space provide key ecosystem services, but are also threatened by human interference. In order to ensure their conservation or restoration, the effects of human uses on ecosystem services need to be understood and tackled: HyMoCARES focused on river hydromorphological processes, as they are prevalent to ensure habitat maintenance and are strongly affected by societal challenges such as flood risk mitigation, renewable energy production, and biodiversity conservation. For this purpose, the project partners developed a conceptual framework and operational tools to integrate ecosystem services in Alpine river basin planning and management. By doing so, they could enhance the protection, conservation and ecological connectivity of Alpine freshwater ecosystems.
Factsheet
2014 – 2020
Liveable
Enhance the protection, the conservation and the ecological connectivity of Alpine Space ecosystems

Group 6: To preserve and valorise natural resources, including water and cultural resources
Group 7: To develop ecological connectivity in the whole EUSALP territory
11/2016
10/2019
2.596.648 EUR
2.103.433 EUR
Partners
Civil protection Agency (Lead partner)
Lead partner
Italy
Provincia Autonoma di Bolzano/Bozen
Bolzano
Eastern Alps River Basin District
Italy
Provincia Autonoma di Trento
Trento
Italian Centre for River Restoration
Département des Hautes-Alpes
France
Provence-Alpes-Côte d'Azur
Gap Cedex
Federal Agency for Water Management, Institute for Hydraulic Engineering and Calibration of Hydrometrical Current-Meters
Institute for Water of the Republic of Slovenia
Slovenia
Zahodna Slovenia
Ljubljana
Autonomous Province of Trento
Italy
Provincia Autonoma di Trento
Trento
University of Natural Resources and Life Sciences, Vienna
Forschungsverbund Berlin e.V.
National Research Institute of Science and Technology for Environment and Agriculture
Bavarian Fishery Association
Germany
Oberbayern
Oberschleißheim
Ticino Cantonal River Management Agency
Switzerland
Ticino
Bellinzona
48.252745700000006

16.36909109717977

46.1890451

9.016393254179864
Outcomes
---

HyMoCARES Online Interactive Framework

Tool

The HyMoCARES Online Interactive Framework is a tool developed with the purpose to facilitate the visualization of the functional dependencies of ecosystem services (ES) on river hydromorphology and to easily access the main information and tools provided by the project.

Management actions (alteration or restoration) are affecting different river functions, those in turn generate positive or negative effects on the typical ES provided by rivers and their floodplains. Hence, the identification of the relevant processes and functions affecting the ES and of the connections between actions, functions and ES, represent a key step to understand the functional dependencies of ES on river hydromorphology.

---

HyMoCARES VIDEO ANIMATION

Strategy

How to manage our rivers? Rivers ecosystem services are key for our lives

---

Online factsheets on the assessment of hydromorphological management/restoration

Tool

Online factsheets on the assessment of hydromorphological management/restoration of Alpine rivers and associated Ecosystem Services

---

HyMoCARES Sectorial guidelines and checklists

Strategy

Tools developed to implement the project approach into actual planning, management and operational process in different countries.

---

Legislative/Regulatory Revision Proposals based on the HyMoCARES approach

Strategy

This document collects the essential elements of a series of amendment proposals, based on the ES approach developed in HyMoCARES, to specific legislative/regulatory revision processes in partner countries/regions, fostering durability of project results.

The document identifies existing legislative/regulatory revision processes where the HyMoCARES approach can be implemented and working directly with groups of final users to define how project outputs can be successfully applied.

---

Factsheet: Multi-scale concept for sediment-based river restoration

Strategy

---

Factsheet: Hydromorphological river restoration tools

Strategy