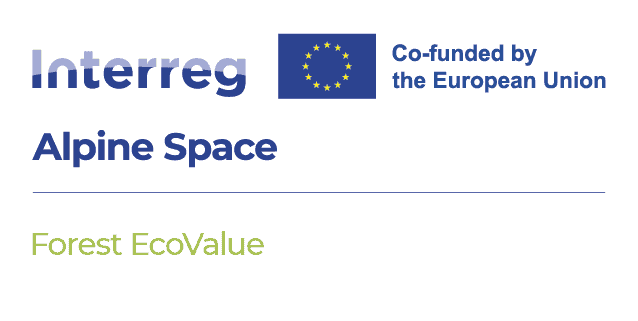 Forest EcoValue
Supporting multiple forest ecosystem services through new circular/green/bio markets and value chains.
Overview
Alpine forests are key for resilience and provide multiple ecosystem services (provision of raw materials, CO2 absorption, natural hazard reduction, as well as recreational services). However, the consequences of abandonment, climate change and territorial degradation progressively lead to a decrease in the capacity to provide such ecosystem services.
Forest maintenance costs are high and far from reaching an economic sustainability for the public and private owners: public funds and revenues generated by the traditional wood value chains are no longer sufficient and the attraction of additional resources is needed.
Forest EcoValue proposes sustainable business models for forest maintenance, based on regional circular, green and bio value chains (energy, construction, chemistry/pharma, food, recreation). It will involve the public and private sectors, as well as citizens, to test market frameworks and payment schemes for forest ecosystem services, thus contributing to the creation of green businesses and job opportunities in the Alpine region and to restore healthy forests.
Factsheet
2021 – 2027
Carbon neutral and resource sensitive Alpine region
SO 2.2 - Promoting the transition to a circular and resource efficient economy

AG1 Research & innovation
2.476.073 EUR
1.857.055 EUR
Partners
48.1510346

11.578677173342168

47.0780514

15.45053284111076
Outcomes
---

Regional Roadmaps (RRs): based on the LLs testing results they set the next steps for implementation in LLs areas. Are acknowledged by stakeholders to ensure engagement. Main resp. PP6 + LLs PPs resp.

RRs consider the results of the testing experience in each LLs. They are co-drafted with local stakeholders in a guided participative process (led by PPs responsible for LLs). RRs identify next steps for implementation and are adopted (signed) by key stakeholders at the end of the pilot, as demonstration of commitment to play a role in ensuring continuity and further steps. Target: One RR per LL signed by at least one stakeholder with a decisive role, from inside or outside the partnership.

---

Online Training ModulesMain responsible PP7. Support from PP8.

The content elaborated for the Summer Schools (D 3.2.2) will be made available to the wider audience by publishing the training modules on the project website. They will provide clarifications and examples for the application off the proposed methodologies, tools and business models (O 2.2) as well as indications on policy/governance barriers and enabling factors. Addressed to TG 4, 5, 6, 8, 10, 11, 14, 16