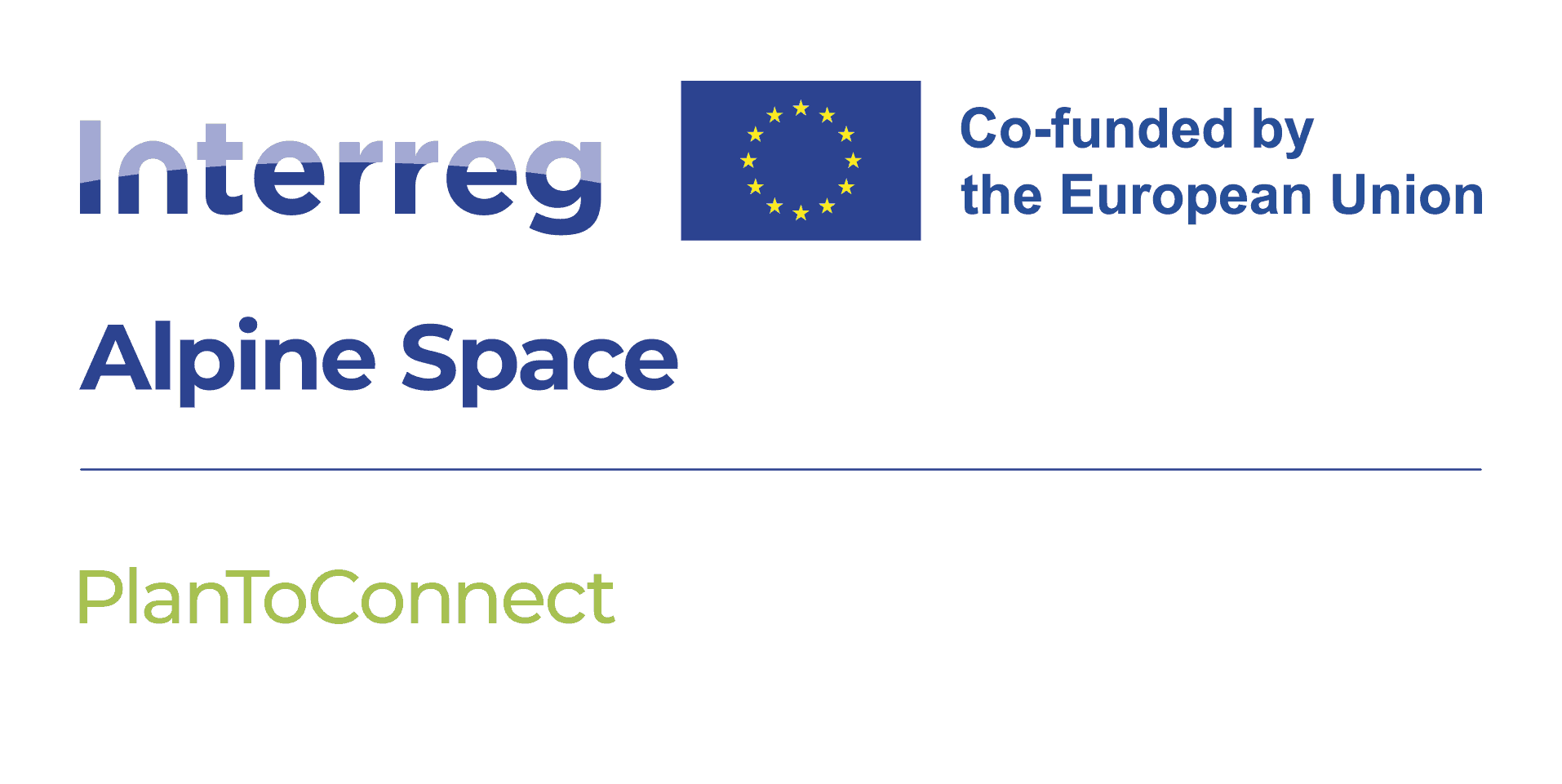 PlanToConnect
Mainstreaming ecological connectivity in spatial planning systems of the Alpine Space
Overview
Why is it important to integrate biodiversity, climate adaptation and ecological connectivity issues into the spatial planning systems and territorial policies of the Alpine countries? Effects of human activities, infrastructures and climate change increasingly endanger habitats and ecosystem functions. Protected areas are essential for preservation of biodiversity and ecosystems. To be effective, they need to be connected by "ecological corridors" to form a coherent network of green and blue infrastructures. The network consists of e. g., rivers, wetlands, meadows, and forests, allowing gene flow, migration and adaptation of species. The PlanToConnect project partners will cooperate with stakeholders in pilot areas to develop and test an Alpine spatial planning strategy for ecological connectivity, and a capacity-building package for its implementation. The aim is to identify the key cross-border areas for planning of ecological connectivity and to facilitate the upgrade of spatial planning systems and territorial policies to preserve or re-establish them.
Factsheet
2021 – 2027
Climate resilient and green Alpine region
SO 1.2 - Enhancing protection and preservation of nature, biodiversity and green infrastructure, including in urban areas, and reducing all forms of pollution

AG1 Research & innovation
11/2022
10/2025
2.461.927 EUR
1.846.446 EUR
Partners
45.563874999999996

5.925742711213934
Outcomes
---

Alpine planning strategy for ecological connectivity, harmonized and integrated planning of GBI networks in priority areas

Comprises guidelines to harmonize GBI networks design within common priority areas, that spatial planning authorities at all levels across the AS can apply to develop a coherent alpine wide GBI network for EC. Proposes an integrated approach to GBI networks implementation, identifies typology of spatial planning instruments/procedures to be considered for its realization and provides guidance on uses that may support/threaten connectivity functions, including RES. Inputs from WP2 and A3.3.

---

Case studies of integrated planning of GBI connectivity networks in pilot sites across administrative boundaries and cross-border areas

The pilot action consists of conducting several case studies demonstrating in PPs pilot sites of alpine strategic planning areas (A1.1) the applicability of O1.1. Case studies are examples of integrated GBI network planning approaches for ecological connectivity for the creation of GBI network for connectivity at regional/local levels across administrative boundaries and cross-border areas contributing to the implementation of the Alpine planning strategy for ecological connectivity.

---

Training and capacity building system on integrated spatial planning of GBI networks for ecological connectivity

A comprehensive capacity building and training package is created to guide planning authorities at regional/local level in the design of BGI networks for connectivity. Includes e-modules, technical toolkit and tailored training sessions. Close contact to universities and professional associations to meet the needs of the state-of-the-art spatial planning education. Strong cooperation with AlpPlan network ensures long-term dissemination to stakeholders in the entire Alpine Space.
Project calendar
27 - 28 Nov 2023
Ecological connectivity and spatial planning: From concepts to implementation
Project: PlanToConnect
Join the first workshop of the AlpPlan/PlanToConnect Expert Platform on site in Ljubljana or online!
46223
2023-11-27
2023-11-28
12:00:00
13:00:59
||
|project|
73
46.04333725346606
14.505334009755556