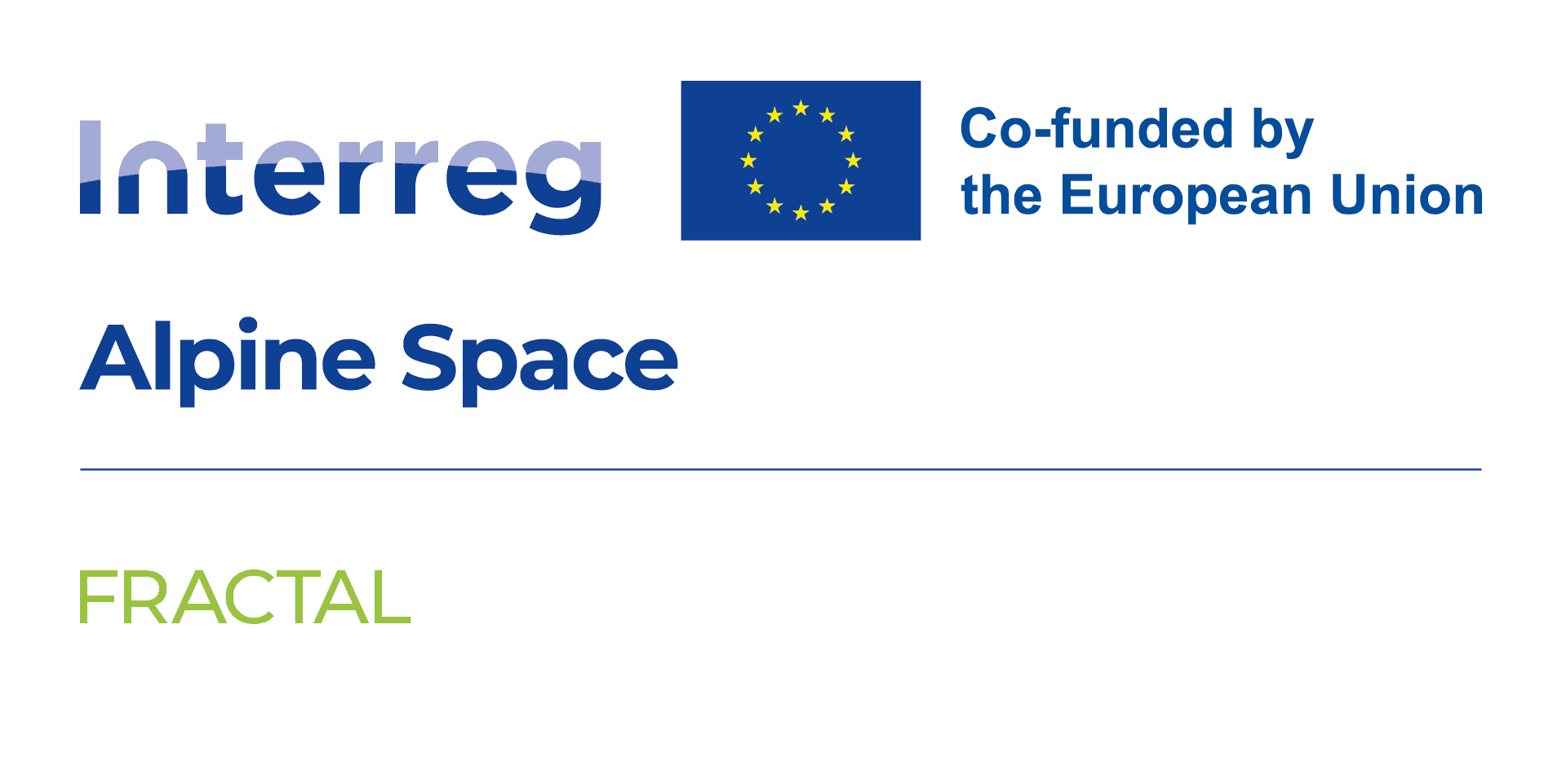 FRACTAL
FRACTAL - FosteRing green infrAstruCTure in the ALps
Overview
The Alps are characterized by a variety of natural, agricultural, and small urban areas, where the connectivity between natural and semi-natural ecosystems is not always ensured. One of the most effective ways to support ecosystem services is implementing Green Infrastructure (GI) at local scale, but they are still scattered in rural and peri-urban areas. Building on the solutions developed by the LUIGI project, FRACTAL involves local stakeholders in the implementation of green infrastructure. The goal is to standardize the requirements to plan GI at municipality level, as well as to develop an education toolkit in order to raise awareness among citizens and pupils.
Factsheet
2021 – 2027
Climate resilient and green Alpine region
SO 1.2 - Enhancing protection and preservation of nature, biodiversity and green infrastructure, including in urban areas, and reducing all forms of pollution
04/2023
09/2024
445.786 EUR
334.340 EUR
Partners
Free University of Bolzano-Bozen (Lead partner)
Lead partner
Italy
Provincia Autonoma di Bolzano/Bozen (ITH1)
Bolzano
National Institute of Biology
Slovenia
Zahodna Slovenija (SI04)
Ljubljana
Triglav national park
Slovenia
Zahodna Slovenija (SI04)
Bled
Burgenland Business Agency
Austria
Burgenland (AT11)
Eisenstadt
46.49832485

11.350104387045558

47.8303803

16.53244757088359
Outcomes
---

Toolkit for formal and non-formal education on the role of GI

The innovative educational toolkit contains an infographic, a movie, a board game, and an illustrated booklet for pupils and students. The movie will be a mute short film. The board game will be a "serious game" to experiment the relevance of GI to face climate change in the alpine context. It will be freely downloadable & developed with 2 expansions so to be used at different school levels and in non-formal contexts. It will be disseminated in 4 languages (EN, ITA, DE, SLO).

---

Transalpine GI Pact

The GI Pact is a jointly produced document arising from the participatory approach developed in Activity 1.3, and from the D 1.3.1. It will contain a set of GI-based solutions for municipalities and for the agricultural sector. The Pact will be delivered to the administrations and each PA, by signing the Pact, will commit itself in implementing the proposed solutions in a defined timeframe.
The first number of the newsletter is ready and downloadable in English, German, Slovenian and Italian. Have a look to find info about FRACTAL project objectives and activities, an introduction of project partners and highlights of activities done, ongoing and planned for the coming weeks.

Download

Here is the presentation used to introduce GIs definition and concepts at the beginning of the Italian Workshops.

Download
Project calendar
21 - 27 Nov 2023
1° FRACTAL GI-day_Austria Edition
Project: FRACTAL
The first Green Infrastructure Day is here!
45618
2023-11-21
2023-11-27
08:30:00
18:00:59
||
|project|
72
47.1752597
16.3579534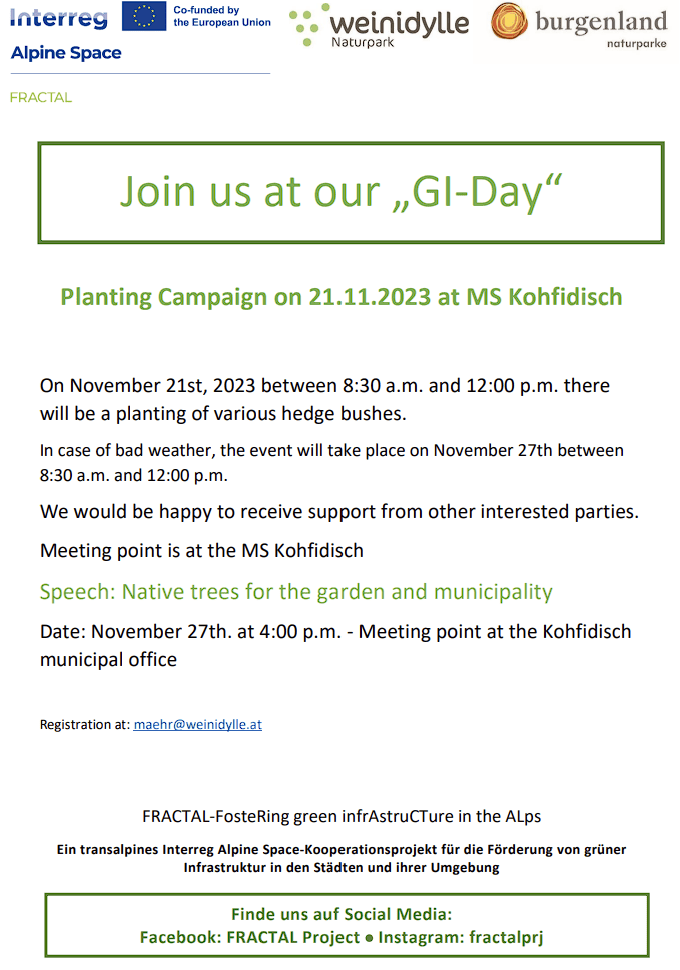 28 Oct 2023
1° FRACTAL workshop in Italy
Project: FRACTAL
44421
2023-10-28
2023-10-28
09:00:00
16:30:59
||
|project|
70
46.0045798
10.8420518