Transnational Partners Meeting in Ljubljana
First image
Title
Transnational Partners Meeting in Ljubljana
Date
04 Jul 2023 - 05 Jul 2023
Organiser
Regional Development agency of the Ljubljana and Development agency Sora Ltd.
ECOLE Project-Transnational Partners Meeting in Ljubljana:
On the 4th and 5th of July the partners of the ECOLE project met in Ljubljana, forthe first Transnational partners meeting. The two days were filled with activities and workshops that allowed the partners to confront, and learn, from each other. Furthermore, during the second day, the partners received a private tour of the 2 Slovenian Industrial Parks whom we are collaborating with. This meetings provide an optimal opportunity to understand better what the partners are working on, and implement some of their work in their own. Stay tuned to always stay updated with the project!
Partners:
Consorzio ZAI Interporto Quadrante Europe COSELAG - Trieste Economic Trieste Economic Development Agency RA Sora - Development Agency Sora Ltd RRA-LUR - Regional Development Agency of the Ljubljana Energy and Innovation Centre of Weiz Wirtschaftsagentur Burgenland GmbH Technologiezentrum Energie (TZE) ITALCAM - Italian-German Chamber of Commerce Grenoble-Alps Metropole POLYMERIS Lombardy Foundation for the Environment TUM International GmbH


03 - 04 Oct 2023
Partner meeting AMETHyST
Project: AMETHyST
AURA-EE and Energy Agency South Tyrol – CasaClima are happy to host you in Innsbruck in October 2023
43164
1
2023-10-03
2023-10-04
00:00:00
23:59:59
||
|project|
72
47.2620678
11.3960506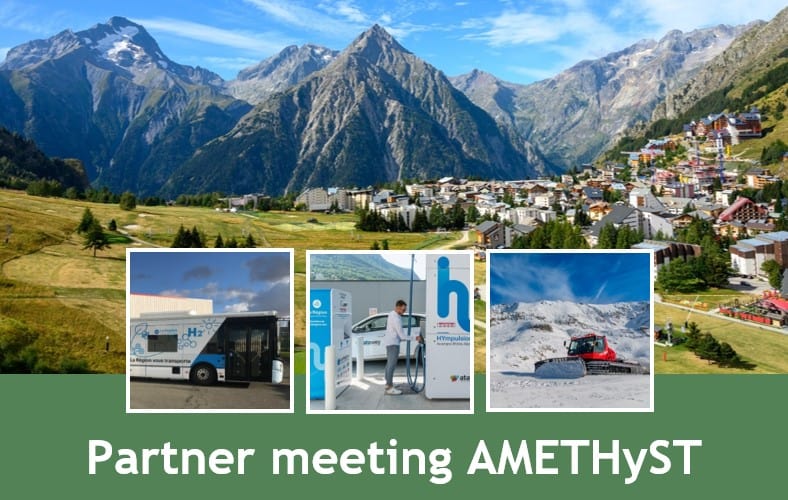 04 Oct 2023
"Save the date" The first site visit and exchange opportunity in Innsbruck
Project: AMETHyST
AMETHyST PPs are organising a series of best practice visits to local hydrogen initiatives.
43209
1
2023-10-04
2023-10-04
00:00:00
23:59:59
||
|project|
72
47.2620678
11.3960506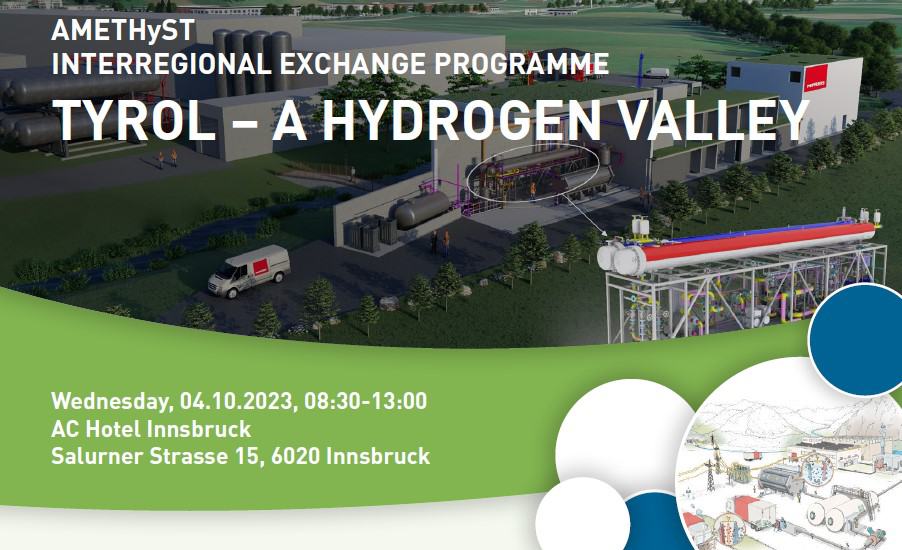 05 - 06 Oct 2023
Digital Alps Conference
Project: SmartCommUnity
The Digital Alps Conference is a major event of the Macro regional strategy for the Alpine area EU
43710
2023-10-05
2023-10-06
14:00:00
12:00:59
||
|project|
45.8327056
6.8651706