Interreg B online information sessions
First image
Title
Interreg B online information sessions
Date
09 Nov 2021 15:00 - 09 Nov 2021 17:00
Organiser
Swiss Federal Office for Spatial Development (ARE)
The Swiss Federal Office for Spatial Development (ARE) is holding two identical online information sessions on Webex.
In these short sessions, they will present the new Interreg Alpine Space as well as Interreg North West Europe programmes. Furthermore, the participation of the Swiss partners will be explained. At a later stage, bilateral exchanges between the Swiss contact point and interested parties will take place.
There will also be some information on the first call for projects of the Interreg Alpine Space programme, which will start at the end of the year.
The languages will be German/French, without translation. The presentations of the programmes could also be in English.
Dates : Tuesday, 9th November 2021, 3-5 pm.
More information on registration will be available soon.


30 Nov 2021
BE-READI ALPS investors day
BE-READI ALPS organises on November 30th an event to foster the cooperation among investors for the benefit of the companies of the Alpine Space area.
1
2021-11-30
2021-11-30
00:00:00
23:59:59
||
|project|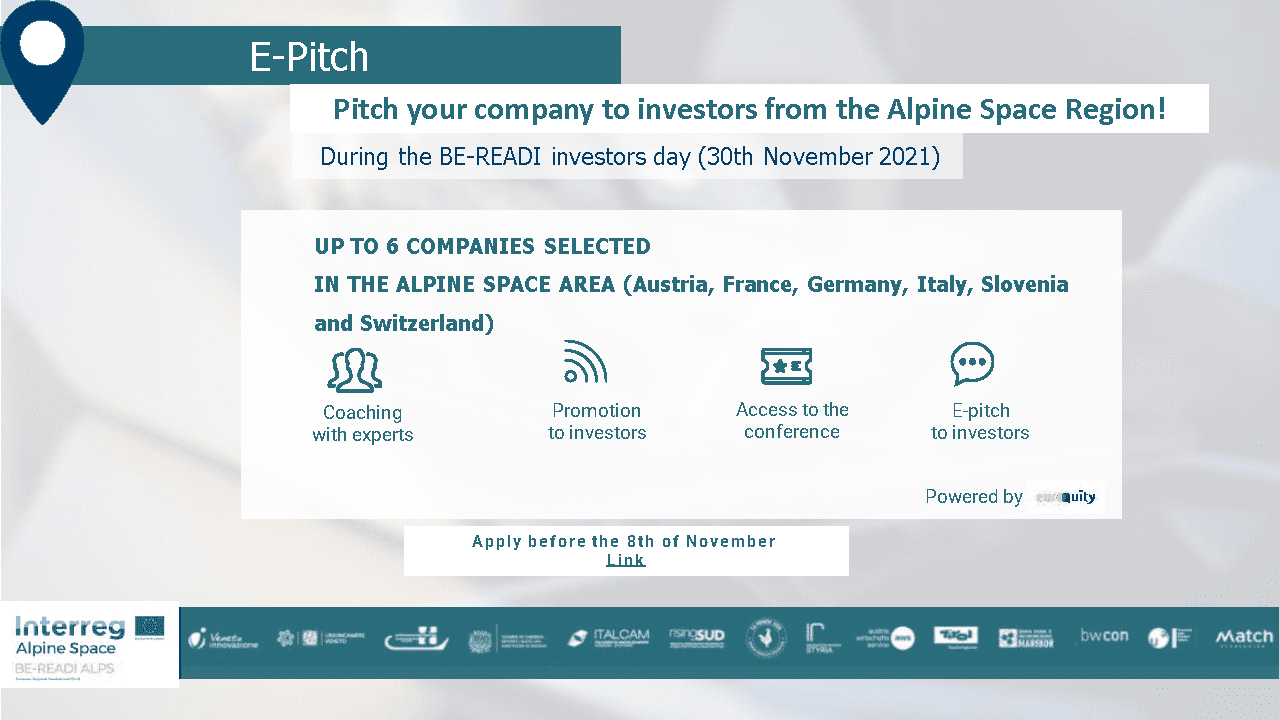 01 - 02 Dec 2021
Transnational Hackathon on Mobility
Teams are working on topics related to mobility for innovative ideas and approaches to advance mobility in the alpine regions. To make mobility more efficient, easy and environmentally friendly the event wants to tackle various challenges related to the topic of mobility.
0
2021-12-01
2021-12-02
18:00:00
18:00:59
||
|project|