World Sustainable Energy Days
First image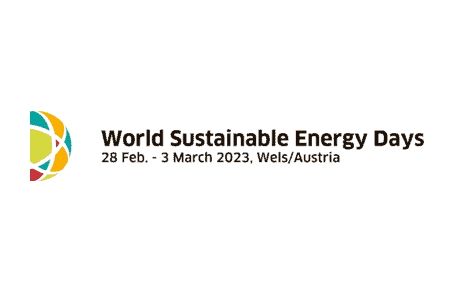 Title
World Sustainable Energy Days
Date
28 Feb 2023 00:00 - 03 Mar 2023 00:00
Organiser
OÖ Energiesparverband
The price crisis, multiplying signs of climate change, and threats to energy security urge us to act like never before. REPowerEU reflects this urgency and provides new momentum for the energy transition.
In 2023, the World Sustainable Energy Days show the critical role of the energy transition in securing our clean energy future and concrete policies, technologies and markets to get us there. The annual conference is a leading event on the energy transition and climate neutrality with over 650 participants from over 60 countries.

24 - 28 Apr 2023
4th EU Macro-Regional Strategies Week
EU MRS Week is the biggest annual event dedicated to the four EU macro-regional strategies.
30839
1
2023-04-24
2023-04-28
00:00:00
23:59:59
||
|program|
50.8605757
4.394246067369956

04 - 05 Apr 2023
Project meeting in Bolzano
Project: X-RISK-CC
First face-to-face project meeting in Bolzano.
30725
1
2023-04-04
2023-04-05
00:00:00
23:59:59
||
|project|
70
46.4939849
11.34752
17 - 18 Apr 2023
Study visit in Bavaria
Project: H2MA
Organization of study visit on commercial long-distance transportation
31274
2023-04-17
2023-04-18
14:00:00
19:00:59
||
|project|
69
49.4602808
11.028279