Interreg Alpine Space – TranStat Overview
First image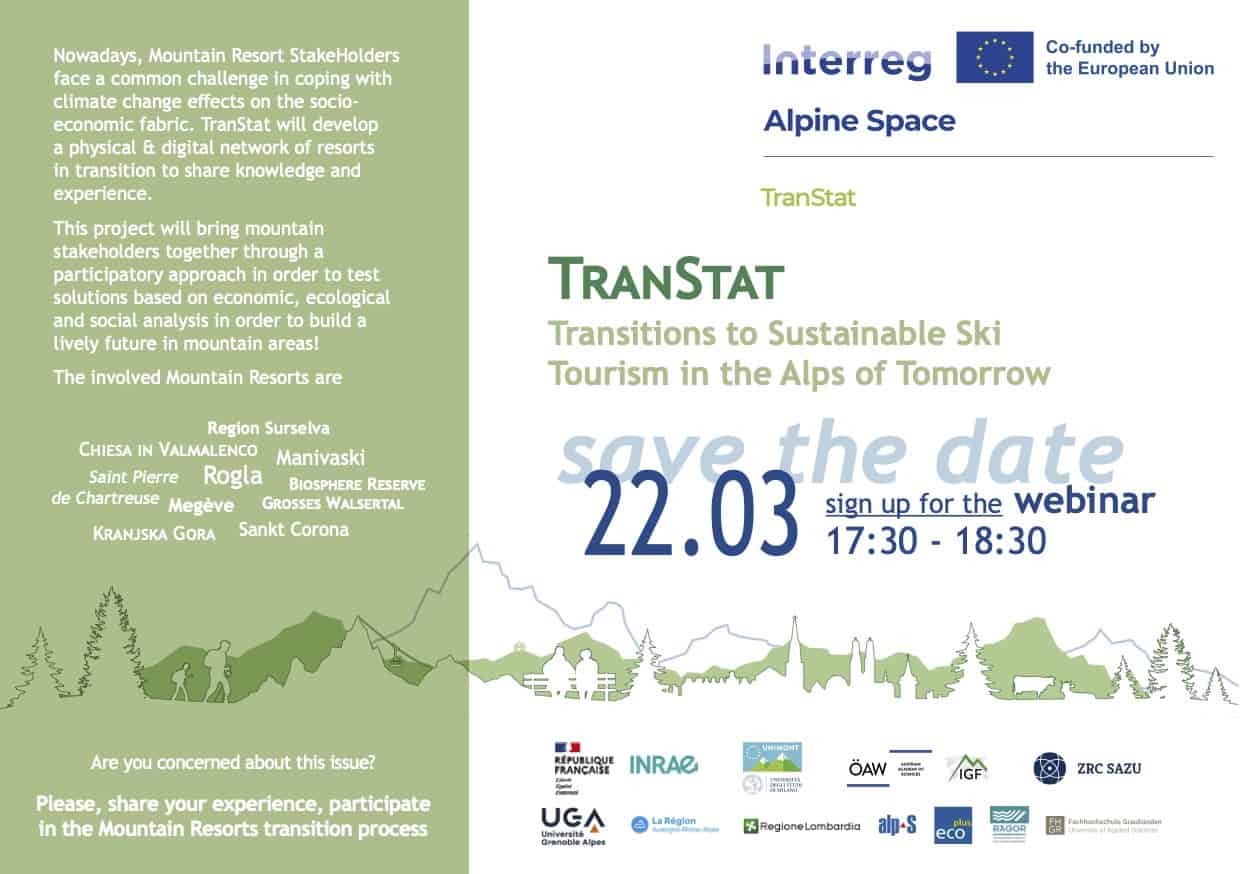 Title
Interreg Alpine Space – TranStat Overview
Date
22 Mar 2023 17:30 - 22 Mar 2023 18:30
Organiser
University of Milan - UNIMONT, INRAE
On Wednesday 22 March, at 5.30 p.m., there will be an online presentation of the Interreg Alpine Space TranStat project. The project aims to develop new socio-economic models that enable ski resorts and their territories to cope with the effects of climate change in mountain areas. The TranStat project intends to develop a physical and digital network and to promote a participatory approach by involving the representatives of the facilities involved in an interactive dialogue. Are you interested or already familiar with these issues? Share your experience with us and participate in the transition process of Mountain Resorts and their territories. Register for the webinar: a few days before the event you will receive the full programme and the access link.

24 - 28 Apr 2023
4th EU Macro-Regional Strategies Week
EU MRS Week is the biggest annual event dedicated to the four EU macro-regional strategies.
30839
1
2023-04-24
2023-04-28
00:00:00
23:59:59
||
|program|
50.8605757
4.394246067369956

04 - 05 Apr 2023
Project meeting in Bolzano
Project: X-RISK-CC
First face-to-face project meeting in Bolzano.
30725
1
2023-04-04
2023-04-05
00:00:00
23:59:59
||
|project|
70
46.4939849
11.34752
17 - 18 Apr 2023
Study visit in Bavaria
Project: H2MA
Organization of study visit on commercial long-distance transportation
31274
2023-04-17
2023-04-18
14:00:00
19:00:59
||
|project|
69
49.4602808
11.028279