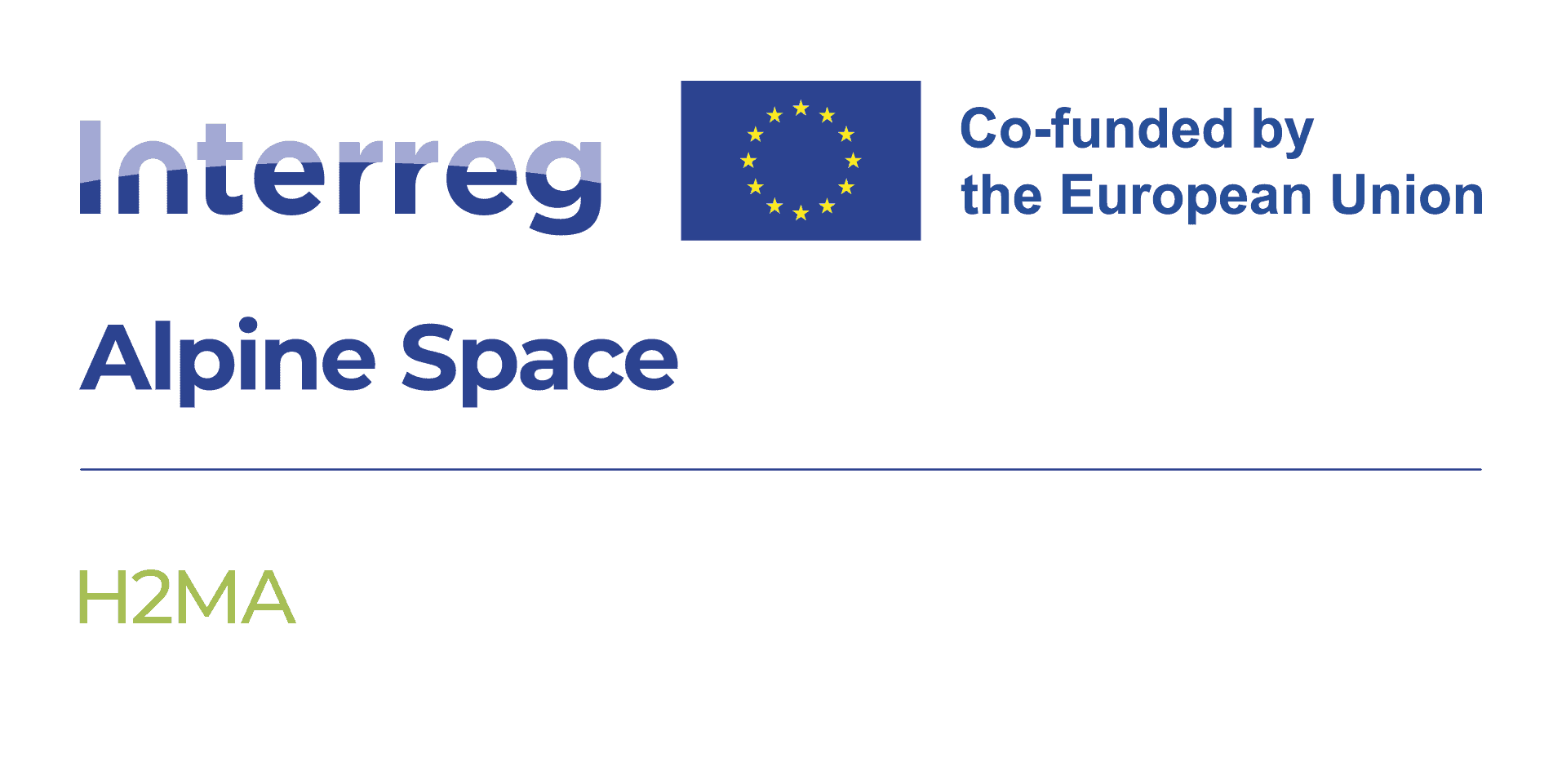 H2MA
Green Hydrogen Mobility for Alpine Region Transportation (H2MA)
Overview
H2MA works to accelerate the transnational roll-out of green hydrogen mobility infrastructure in the Alpine region, to curb CO2 emissions and foster the transition to low-carbon transport. Through the joint development of cooperation mechanisms, strategies, tools, and resources, the project will increase the capacities of territorial public authorities and relevant stakeholders to collaboratively plan and pilot test zero-emission hydrogen routes across the Alps. As a result, H2MA will improve the governance of green hydrogen mobility, boost the uptake of green hydrogen for heavy transport, unlock green financing, and strengthen the cooperation framework between public authorities and companies involved in green hydrogen mobility.
Factsheet
2021 – 2027
Carbon neutral and resource sensitive Alpine region
SO 2.1 - Promoting energy efficiency and reducing greenhouse gas emissions

AG1 Research & innovation
2.273.155 EUR
1.704.866 EUR
Partners
48.573378950000006

7.7523399496465775
Outcomes
---

Recommendations and updates for local, regional, and national hydrogen strategies and mobility plans, integrating H2MA knowledge, resources, and tools

Partners with policy-influencing capacity (KSSENA, BSC, CMT, RL, EMS, PVF, KPO, 4ER), based on WP1 resources, studies, and tools, will prepare proposals on how to integrate project knowledge in strategies they address (12 in total; identified in C2.5 section) in the form of recommendations. Thus, they will deliver updates in own strategies (or measures in case strategy has not yet materialised); KSSENA and 4ER, as actors covering their whole country, will focus on national H2 strategies.

---

Common 'green H2 mobility routes' interconnecting current with upcoming/planned infrastructure across the Alpine space

Pilot testing will result in setting up transalpine routes and proposing a corresponding green H2 infrastructure network for commercial/freight and urban mobility. Local Working Groups will carry out the pilots, building capacities on how to combine territorial requirements with Alpine specificities, to deliver route designs for the 6 pilot territories, submitted for feedback to relevant national, Alpine, and EU bodies. All designs will be peer-reviewed and merged into a route masterplan.

---

Collaboration framework with green H2 mobility actors, ecosystems, and businesses, initiating synergies to tap into green financing and investement opportunities.

Partners, LWGs members, and stakeholders will liaise with H2 ecosystems and relevant businesses to sign Memoranda of Cooperation. As a result, H2MA will deliver an 'Alpine collaboration framework' that will enable targeted actors to jointly pool resources and capacities to unlock (transalpine) financing opportunities (e.g., setting up public-private partnerships). In this way, H2 ecosystems will be empowered to build upon and expand the transalpine route designs pilot-tested by H2MA.